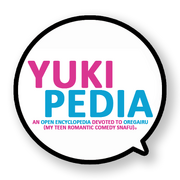 Welcome to Yukipedia
Edit
Yukipedia is an open encyclopedia devoted to the Light Novel, Manga and Anime series Yahari Ore no Seishun Love Come wa Machigatteiru. (shortened to Oregairu for simplicity's sake)
The anime series is currently airing from April to June. It's being localized for the west as My Teen Romantic Comedy SNAFU by Sentai Filmworks and can be streamed online on Crunchyroll for free.
At the moment the Light Novel and the Manga adaptation has not been localized for any western release.
Latest activity
Edit
Ad blocker interference detected!
Wikia is a free-to-use site that makes money from advertising. We have a modified experience for viewers using ad blockers

Wikia is not accessible if you've made further modifications. Remove the custom ad blocker rule(s) and the page will load as expected.