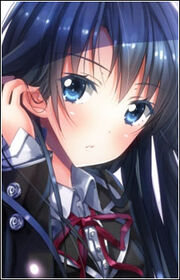 Yukinoshita Yukino
Age: 16
Birthday: January 3rd
Blood-type: B
Yukinoshita Yukino (雪ノ下 雪乃) is one of the main characters in Oregairu. She is portrayed by Hayama Saori in the anime.
Personality
Edit
She is smart and beautiful, and comes from a wealthy family, but is nicknamed the "Ice-Cold Beauty" because of her icy personality. Yukino has a tendency to be very blunt and can easily point out faults to other people where normally it would be very hard to. Yukino believes that it is the duty of the "exceptional" (a.k.a. herself) to help the less fortunate. Her personality can be seen as exceedingly haughty to some people including Hachiman. Despite this she is still capable of understanding other people and being kind and compassionate. On a more personal level, she hates to be pointed out to have a smaller chest than other female characters.
Volunteers Club
Edit
N/A
Ad blocker interference detected!
Wikia is a free-to-use site that makes money from advertising. We have a modified experience for viewers using ad blockers

Wikia is not accessible if you've made further modifications. Remove the custom ad blocker rule(s) and the page will load as expected.