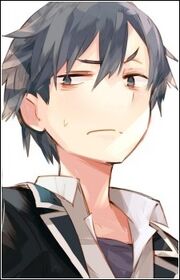 Hikigaya Hachiman
Age: 16
Birthday: August 8th
Blood-type: A
Hikigaya Hachiman (比企谷 八幡, called 'Hikki' by Yuigahama Yui) is the protagonist of Oregairu. He is portrayed by Eguchi Takuya in the anime.
Personality
Edit
Hachiman is anti-social in his behaviour, choosing to not engage in conversations unless he finds it necessary. While he will claim to have no friends he gets along well with his younger sister Komachi. After joining the Volunteers Club he begins interracting with a larger group of people and thus making his first friends.
Volunteers Club
Edit
Unlike Yukinoshita Yukino and Yuigahama Yui, Hachiman did not join the Volunteers Club by choice, but was forced into the club by his homeroom teacher Hiratsuka Shizuka in a attempt to change his personality to one more accepting of teengage life and the other students of the school.